By Sukanya Sharma
It was an unusual Sunday in Bandra, Mumbai thanks to an art project called 'Art Express', organised by Mpower in collaboration with Chal Rang De (a non-profit that seeks to transform communities using art). With the aim to de-stigmatise mental health, the Art Express project attracted numerous volunteers who painted the streets on S.V. Road with slogans of self-care and importance of mental healthcare.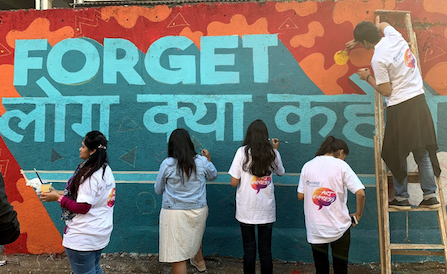 "Art helps people feel better, happier, a little lighter…and there's no age bar dictating participation," Dedeepya Reddy, Founder of Chal Rang De, tells The Health Collective. The volunteers spoke to pedestrians, rickshaw-wallahs, and local community members about mental health, what they understand from it, also aiming to give them information on where to seek help, if needed.

While this sort of street art provides a great canvas, it is essentially a conversation-starter, as well.
"People are inquisitive, and they stop by to ask what's happening and that's the start of a dialogue with them," Manasi Deshpande from the Mpower team tells The Health Collective. "We ask them questions like,"Kya aapko tanaaw hai?" (Are you stressed?) or "Kya aapko kisi cheez ki pareshani hai?" (Are you bothered by anything?) and explain terms like 'depression' to them. They're quite receptive, and an activity like this helps bridge that communication gap." 
And there is the art of it. There are well known benefits to using art for self-expression or even healing. "People who cannot express themselves verbally find good expression in art. And art therapy is a very well-known therapy," says Neerja Birla, chairperson and founder of Mpower – The Foundation.
Here's to more such efforts! It is collective action, after all, that should help us reduce the stigma associated with mental health disorders, and increase awareness when it comes to mental health and mental illness in India.
"We've been doing this (work at MPower) for the last 3 years, and we've seen a couple of changes — one is that we've seen more and more people coming to the centre to seek help. Getting in touch with psychologists, and psychiatrists both, the numbers are growing," Birla tells The Health Collective. "The second thing is that people and the press are talking about mental health – there's an open dialogue."
Did you have a comment, reaction or suggestion? Or would you like to share your story? Do write to us here or tweet us @healthcollectif
Disclaimer: Material on The Health Collective cannot substitute for expert advice from a trained professional
Feature Photo by Sukanya Sharma for The Health Collective