Monday October 10 marks World Mental Health Day — at the very least, one day designated (by the World Health Organisation) for the world to pay attention to mental health issues. Of course those are issues we care about year-round, and we couldn't be happier to have many of you contributing, sharing your struggles and hard-won lessons an experiences with us and each other. Here's to creating a community… and moving forward step by step.
We're asking: What comes to mind when you hear the words "mental health"… What does the phrase mean to you?
Here is what a psychologist (and dear friend and advisor of the Health Collective) replied:
There is a lot of emphasis on physical health and wellbeing. Mental health requires the same focus. It is crucial that people begin to see health as a combination of mental and physical wellbeing.
As a psychologist a lot of my work has focused on creating awareness about mental health and helping people understand signs and symptoms of common mental health problems. I also believe that counselling should be highlighted as a process of talking about anything that the person thinks is significant. We need to normalise the process of seeking help. Just the way one would consider seeking a doctor's advice for a fever that is not improving, we need to seek the help of a mental health professional for a problem we are finding hard to deal with. And of course, if people who have experienced mental health difficulties share their stories, it is far more powerful. 
        – Arpita Anand, Psychologist
Ahead of World Mental health day (though we think about this year-round!) .@healthcollectif is asking – What does #mentalhealth mean to you?

— amrita tripathi (@amritat) October 6, 2016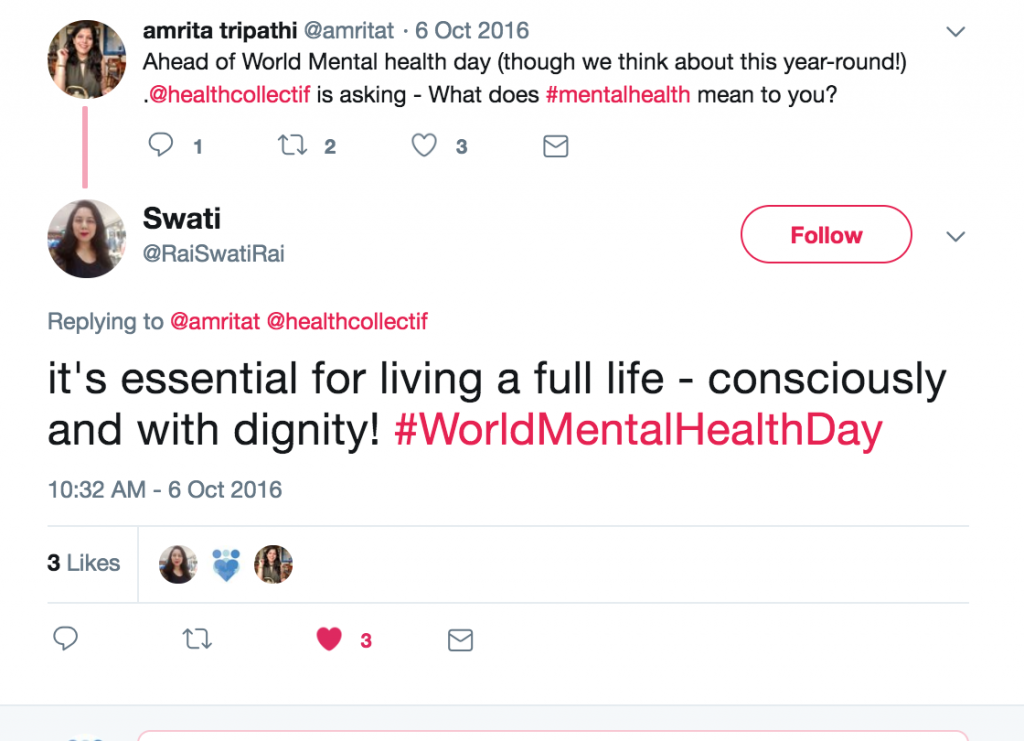 From Team Health Collective:
What #mentalhealth means to me?
De-stigmatised; as common as knowing what's your blood sugar cholesterol & blood pressure @healthcollectif

— karanthakur (@karanthakur) October 6, 2016

Keep your comments coming in – you can email us here or tweet @healthcollectif
And for further reading: This year the WHO is focusing on psychological first aid.
Feature Photo: Syndey Rae for Unsplash